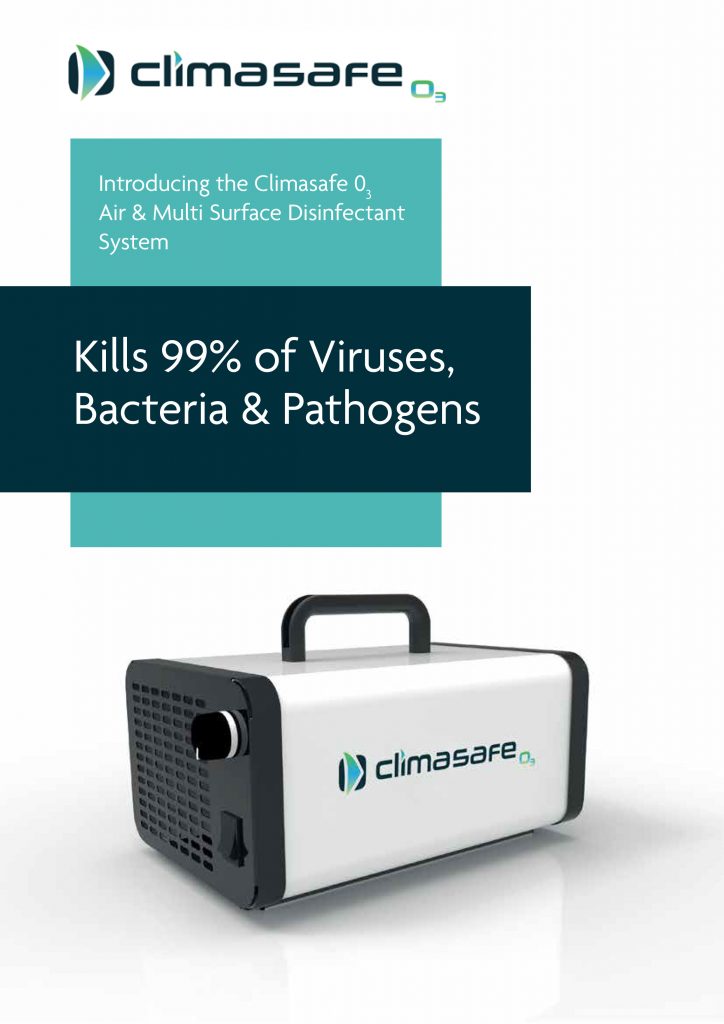 Our new Climasafe O3 Air & Multi Surface Disinfectant System is a compact, portable ozone generator that is ideal for disinfecting areas where a fresh, clean environment is vital for good business. Unpleasant odours and bacteria typically found on internal surfaces such as worktops, flooring, soft furnishings. seating, etc. can all be removed with the new Climasafe O3 air and multi surface surface disinfectant system. In fact, it can be used in any internal space where 'fresh air' is needed, and as Ozone works as a natural sanitising agent killing 99% of bacteria, pathogens and viruses in as little as 20 seconds, including E-coli, MRSA and mites, leaves the treated areas hygienically clean.
Suitable for..
Homes, Offices, Shops, Hotels, Gyms, Showrooms, and Restaurants
Clinics, Sanitary facilities, Rehabilitation Rooms and Bathrooms
Vans, Cars, Minibuses, Trucks, Caravans and Holiday Homes
Easy operation – The compact, lightweight, Climasafe O3 Ozone Generator should be operated in a readily accessible area within the internal space to be disinfected, ensuring that there will be no human transit during operation. Simply plug the Climasafe O3 Ozone Generator into the power supply set the timer program according to instruction and switch on. Returning to the disinfected area on completion to ventilate the room with no consumables required.
Up to now, ozone is well known for being a natural compound present in the atmosphere. The Ozone is an effective tool for water treatment and purification, in electro medicine (ozone therapy) and, above all, in the elimination of bad odours, sanitation and disinfection of air. According to the World Health Authority, ozone is the most powerful disinfectant against all kinds of micro organisms.