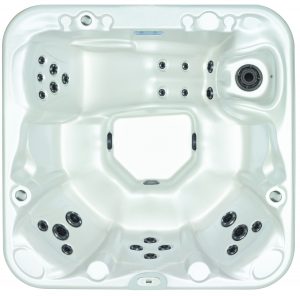 Park Leisure Solutions will officially launch our new compact 4 Person Hot Tub Model at the Lawns Show, Cottingham, near Hull in September. The NEW 202-PKS has been designed and built in response to customer's requests for a full body lounge seat, coupled with comfortable open seating to accommodate  four adults.
Measuring 80" x 80" x 36" the new model seats 4 people comfortably and offers 1108 litres capacity. Available to order right now this hot tub comes as standard in Silver Marble acrylic with a black cabinet and cover. Designed specifically for our Holiday Park customers our latest addition satisfies all the guidelines in the HSE 282 document.
Seats: 4 Person Hot Tub with full body lounge seat
Number of Jets: 24 Two Tone Plastic
Dimensions: 80" x 80" x 36"
Water Capacity: 1,108 Litres
The new 202-PKS Hot Tub features a 1.5HPR dual speed jet pump, and 24 two-tone hydrotherapy massage jets.  Multi colour LED illumination can be combined with the optional MP3 Audio System to create a soothing, relaxing Hot Tub experience.
Standard Features include:
Silver Marble acrylic with a black cabinet and cover.
Galvanized SureSteel Frame
Capped Bottom Liner
Manifold Plumbing System
Triple Seal Protection
Polysteel Cabinetry
Layered ROXUL® Insulation
Climacube Heat System Ready