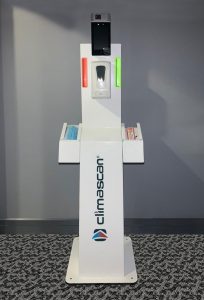 Park Leisure Solutions are evolving to meet the ongoing Covid 19 threat to businesses, developing safe ways to run your business today and return to daily life as and when restrictions are relaxed. The recent launch of the Climasafe O3 Ozone Generator allows businesses to create safe, virus free working environments for both customers and employees. The introduction of Climascan 'No-touch' access control will help prevent the spread of germs and viruses, informing individuals immediately if they maybe at risk and potentially averting further spread, with no physical interaction required.
The new Climascan imaging and temperature measurement systems is easily installed, operated, and relocated with the very minimum of setup time and operator training to get you back to business safely. Climascan can provide organisations such as Holiday Parks/Retail Outlets/Schools/ Hospitality Venues/ Stadiums etc with fast, facial temperature detection systems that facilitate the safe continuous operation of your business and crucially, the well-being of those within it. Safe guarding of employees, customers, students or visitors is a priority and this is even more important during the Coronavirus pandemic.
The on-screen and audible alerts immediately identify one or more individuals in a large crowd situation with visible temperature tracking, aiding rapid detection and maintaining pedestrian flow.
Key Benefits include:
Plug & play: Supports rapid deployment.
Free of wiring, installation or configuration
Ideal for contactless doorway access
Thermographic camera built-in, delivering efficient temperature measurement
Real-time skin-surface temperature display
Face mask detection
Recognition distance: 0.5m-1.5m
Temperature measuring range: 30°C to 45°C, accuracy ± 0.5°C