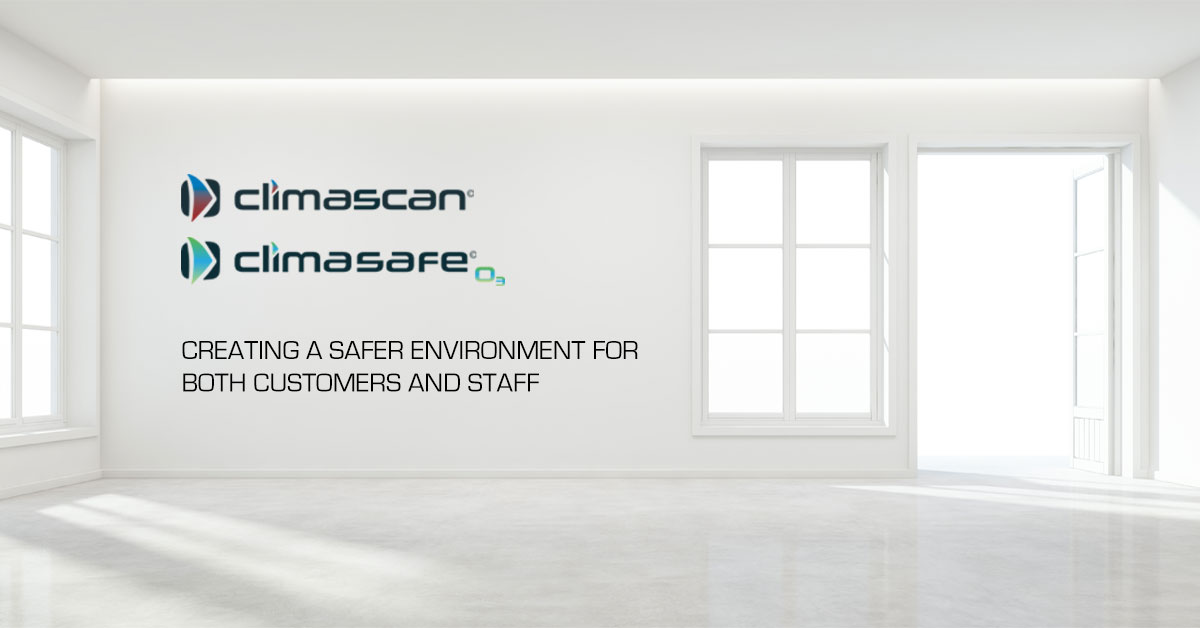 Climasafe O3 Air & Multi Surface Disinfectant System
Ozone works as a natural sanitising agent killing 99% of bacteria, pathogens and viruses including Coronavirus in as little as 20 seconds, leaving treated areas hygienically clean. Simply plug the Climasafe O3 into the power supply, set the timer program according to instruction and switch on. Returning to the disinfected area on completion to ventilate the room with no consumables required.
Key Benefits include:
Converts oxygen O2 to Ozone O3
Low running costs
Portable
Built in timer with 6 settings
Requires no chemicals or fluids
Low acoustic noise
Remote on/off feature
CE Approved product
Climascan 'No Touch' access control system
The new Climascan access control system is easily installed, operated, and relocated with the very minimum of setup time and operator training to get you back to business safely. Climascan can provide organisations such as Holiday Parks/Retail Outlets/Schools/ Hospitality Venues/ Stadiums etc with fast, facial temperature detection systems that facilitate the safe continuous operation of your business and crucially, the well-being of those within it. The on-screen and audible alerts immediately identify one or more individuals in a large crowd situation with visible temperature tracking, aiding rapid detection and maintaining pedestrian flow.
Key Benefits include:
Plug & play: Supports rapid deployment.
Free of wiring, installation or configuration
Ideal for contactless doorway access
Thermographic camera built-in, delivering efficient temperature measurement
Real-time skin-surface temperature display
Face mask detection
Recognition distance: 0.5m-1.5m
Temperature measuring range: 30°C to 45°C, accuracy ± 0.5°C
CE Approved Product
The special promotion price includes a Climasafe O3 Air & Multi Surface Disinfectant System plus a Climascan 'No Touch' access control system. The £26 + vat per week quoted is based on a 48 month lease rental agreement (1 + 47 monthly payments of £112.67 + Vat ). Finance subject to status, terms and conditions apply. Offer subject to stock availability.
Find out more about Climasafe click here
Find out more about Climascan click here